I just returned from a safari in South Africa. It was as amazing and awe-inspiring as you'd expect.
If you've never been on safari, the crux of your experience centers around game drives. During the game drives, you sit in an open Land Rover with your guide and tracker and drive around searching for game (what they call animals). Here's a pic of ours with our great new friends that joined us on the drives:
At the start of every game drive, our guide would ask us what was on the agenda. My friend and I just loved the drives through the beautiful bush, regardless of whether we saw any animals (and you always see some where we were), so we never really had much to offer. We'd answer, "Just want to see cool animals doing cool stuff!" And we always did.
When you start off on your drives, you're often just tooling around in the truck. Your guide and tracker are looking for animals, and when you see them, you stop and awe. It's refreshing in the fresh air (at least in the South African winter) and you can just take in the different scenery, sunrise or sunset, depending on the time of day.
But every so often, we got a call on the radio and our guide would step on the gas, apologize for the fast pace, but promise there was a reward at the end.
I LOVED it when we went fast. It was bumpy and we had to hold on, lest we be tossed out of the truck, but it was so much fun! It kind of felt like this: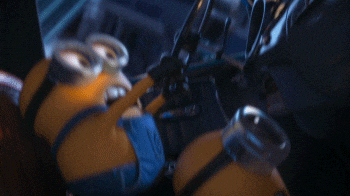 What I loved was that it felt like we had purpose. We were heading toward something and not just driving around aimlessly hoping to see something cool. When we went fast, we had a goal in mind.
The career analogy is hopefully pretty obvious here:
Most people – whether they know it or not – are driving around aimlessly. They're on the prowl, taking a turn here or there, hoping they run into something great, but not sure what they're looking for. While they often find something, it comes from no clear purpose or direction, so they never know what they're going to get, and often get something they don't really want.
But when you have a purpose and a goal in mind, you're on the hunt and you get to step on the gas a bit. The road gets bumpy and you have to hold on and focus, but you know you are heading somewhere. It's no guarantee, but if you're like me (and, according to psychologists, you probably are), that focus of efforts and direction gets you amped. It increases your engagement in the journey and gives you a sense of excitement.
And that's what having a career strategy is all about. A career strategy puts you on the hunt – you're looking for something specific, chasing a goal, and focused in your efforts. Without a career strategy, you're on the prowl – ambling around, looking for something, but not sure what you're looking for.
So – are you on the hunt or the prowl? Are you focused in your efforts? Do you know what you're seeking?
Stay tuned for more career lessons from safari this month! As much as I was warned not to be "that person" when I returned from safari, I can't help myself! As always, I'll be sure to keep it relevant and valuable for you, and I may even throw in some cute lion cub pics along the way!
Who am I kidding? I'll DEFINITELY throw in some cute lion cub pics!
STOP HOPING THINGS WILL GET BETTER!
Sign up here to get a free guide to help you structure your life and career for success!